Embracing Openness in the Heart of Research Triangle Park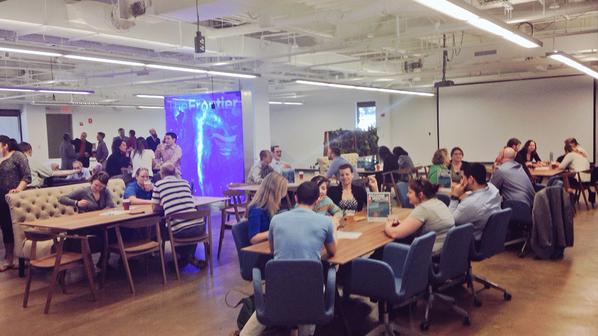 Research Triangle Park in North Carolina is the largest research park in North America. Often cited as one of the first examples of a successful public-private partnership, RTP leaders have been actively working to move the Park away from the gated campuses and spread out buildings that are symbolic of suburbia, for a shift towards denser, more collaborative work environments. While we are acting now to create new spaces for future generations, RTP was originally viewed as a bastion of hope and prosperity for North Carolinians.
In fact, many innovation districts across the globe are working to create more collaborative and inspiring environments. Globally, there has been a shift in the way today's knowledge base desires to work. Technology has freed employees from having to be physically present in an office each day. The resurgence of city centers and downtown areas have also given traditional research parks a stagnant and out of date feeling. Factors that once were appealing to employers and employees – sprawling campuses, lobby fountains and ample parking – are no longer in vogue. Today's workers are increasingly demanding convenient locations and access to amenities. Long commutes and company cafeterias are no longer cutting it.
In response to this cultural shift, areas of innovation are beginning to expand their offerings beyond the lab. In 2014, the Brookings Institution released a report on "The Rise of Innovation Districts." The report highlighted cities across the United States and the United Kingdom that have made efforts to address modern and future needs of work. While the locations examined vary in physical form, all have three, core things in common: proximity to universities, existing industry clusters, and spaces that allowed both groups to come together and network. Of the existing innovation districts highlighted, all emphasize collaboration across industries through the creation of physical spaces meant for convening. In the report, Research Triangle Park is citied as an emerging innovation district, meaning there's still work to be done, but progress has been made through ongoing redevelopment efforts.
Today RTP has grown to encompass more than 7,000 acres and sees 47,000 employees working for more than 200 companies. Ranging in size from 6,000 employees all the way down to one, the businesses that call RTP home come from a variety of industries: IT, pharmaceuticals, agricultural biotechnology, life sciences and more. Since the 1960s, companies have been attracted to RTP because of the talent that resides within the region, the proximity to multiple tier one research universities, and lifestyle found in North Carolina. But, with more millennials joining the workforce, these factors need to be combined with access to housing, restaurants and public transit (none of which can be found within RTP). So, with the leadership and guidance of our board of directors, RTP began a journey to transform Research Triangle Park into a place that would encourage people to dream, believe and create a place that would be attractive to both employees and employers.
In December 2013 the Research Triangle Foundation of NC, the stewards and developers of RTP, acquired 100-acres of property in the heart of Research Triangle Park. Called Park Center, this property created an epic opportunity. For the first time in RTP's history, a redevelopment could occur that would include density and amenities like restaurants and shopping that didn't exist throughout the 7,000 acre property. It also provided RTP leaders with a chance to continue providing resources to North Carolina through expanded venture opportunities. But, at its heart, this was about doing something big for citizens of the state. How could RTP remain relevant when it was an area half the size of the island of Manhattan, but without a single coffee shop for employees to grab a quality latte?
As with any development project, there were plans to be made and details to workout. In the meantime, however, there were a few large buildings – 150,000 sq. ft. – that we viewed as assets. One of these buildings was an old IBM building. After some brainstorming, it was determined that this building would be an open collaboration space. Many times when people have ideas there are barriers. These can be imposed by society, by yourself, or by your current work environment. With this building, the goal was to create a place that removed as many barriers as possible in order to help anyone be able to achieve their goals.
And so, a plan for a new place called The Frontier was imagined and then implemented. The Frontier is meant to be a mini-version of Park Center. We wanted to see what would happen when we threw open the doors and let users create a place that they needed. We invited RTP companies, our area universities, and community organizations to come be a part of this great experiment. We outfitted the first floor of The Frontier with modular furniture that can be moved and arranged as needed. There are also individual conference rooms that are open to anyone in the community to use, which can be booked online. We have opened the first café in RTP called The Farmery, which provides locally sourced food using a creative approach to urban agriculture. And, most importantly, we provided free coffee to help keep everyone caffeinated.
At first, many people that came to the space asked, "What's the catch?" Most remained cautious when we told them, "there's not one." After being open for a few months, the staff at The Frontier incorporated weekly happy hours to help encourage mingling among Pioneers, the term used to describe early adopters at The Frontier, that were using the space. This also served as way to help people to start thinking of RTP as a convening space.
Since then, The Frontier has become a success story that we hope is far from over. It is now home to offices of university programs from NC State University and UNC-Chapel Hill, which helps us achieve our historic mission of connecting with our area universities. Thirty-one companies occupy affordable offices on the upper floors. And, in less than a year, almost 30,000 people have come through the doors to attend an event or program at the space. With little to no barriers, The Frontier has become RTP's front door.
In July, we will begin mobilization on the elements that will become Park Center. Since this project is still a few years from completion, we invite you to come see The Frontier for yourself, or to check out our website. As a place that encourages the exchange of ideas, we welcome you to share yours. Hope to see you soon!